10 Moving Tips
A good mover can do most of the job for you. Thus to find a professional mover is critical if you don't have other choices e.g. having relatives or friends to help you on it. PHX Logistics - a reliable mover based in Beijing - can serve you with thoughtful and tailor-made moving service. We would like to give the following hints on preparing a successful and hassle-free move.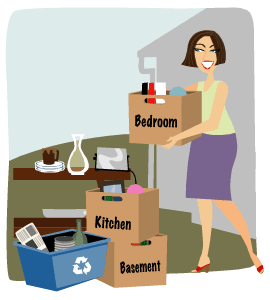 Make an appointment with the mover and have somebody to do a survey at your home to estimate the amount of work, checking the moving path, knowing your special requirement, and to issue the formal quotation/ proposal etc.
Discuss with the mover on the possibility to deliver some boxes/ cartons or even stuffing material for your preparation. Especially very helpful when you sort things out from drawers, cabinet and wardrobe.
Sort out trivial things in advance and put the relevant articles together. Have you ever been dizzying on looking for things? Remote controller for instance. Put them together and collect the things belong to the landlord alongside to avoid being mixed and moved to the new home.
Make decision on whether to take or just have the old items casted. It is usually difficult to make decision on abandon things that we don't use but from concern of cherishment of good memory.
Making necessary notes or give instructions directly to the supervisor of the moving team when they come. For instance "don't want to be bothered during lunch time", "don't open the door for the dog/ cat."
Tell your time schedule directly to the coordinator to avoid misunderstanding, for instance, "I have to leave for a while during…", "All the items must be moved in no latter then…"
Negotiate with the real estate management office regards on the issue of moving out permission/ letter, parking admission, elevator using permission, and other specify rules. It is a good idea to give the office phone number directly to the mover beforehand, so as to avoid understanding difference.
Inform the landlord and real estate management office about the moving at least 1 day ahead, and have the meterman to check the meter, and paying off the bill before moving out. Sometime moving out can be detained or blocked by either of the above matters.
Give enough instructions/ cautions to the packers on the items that need special care. Sometimes we can be cheated by the appearance of the items. Some are not like that stable, hard, light, cheap etc. People may be hurt by no knowing the fact, thus to pre-alert is really necessary.
You'd better ask somebody, baby sister e.g. to help you when you are moving with a baby, sick or disabled family member. Since you could not take enough care on them when you talk to the movers and people from the real estate management office.
Privacy Announcement: The above article is written by Peter Lee, GM of PHX Logistics. Anybody without permission should not copy, download and make use of other ads material in any means. PHX Logistics keeps the rights to fight for any plagiarism and pirate activity.
Nov. 25, 2015